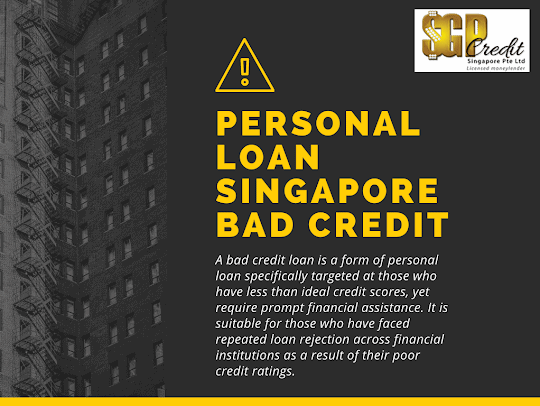 Nowadays, many people want to take out a loan in Singapore. However, depending on the financial situation, it can be difficult to get a loan. People without a steady income are particularly wondering whether their creditworthiness is poor.
Many borrowers think: banks are most likely to lend to people who have a steady income and good credit rating.
That's true, but having a bad credit rating doesn't necessarily mean you won't get a loan. We will show you how you can get a loan in a very uncomplicated way, despite a bad credit rating.
First, What Exactly is a Bad Credit Score?
At the latest, if you deal more closely with the topic of creditworthiness, you will not be able to avoid the term "Credit Score". The score plays among other things for banks and lenders a central role in the credit check before a personal loan in Singapore is granted. Based on past data such as payment defaults or credit card information, the credit agency assesses your creditworthiness. The Credit Score can have a value from 1911 to 2000, where 2000 stands for an optimal credit rating. The lower the score, the higher the risk of default for banks and lenders. The chances of getting a loan are therefore significantly limited for people with poor creditworthiness.
Who gives loans despite bad creditworthiness?
You don't know anyone who would be financially able to lend you a loan? Doesn't your loved one want to take the risk of loaning you out because of your poor credit rating?
Even then you have the option of getting a loan despite a bad credit rating. This is made possible by so-called credit marketplaces in Singapore. You can look for licensed money lenders in Singapore to get a loan despite bad creditworthiness.
You can borrow a personal loan in Singapore from licensed money lenders like SGP Credit, these loan providers have some notable advantages over banks. With this loan provider, almost everyone has a chance of getting a loan, even despite a bad credit rating.
Even groups of people for whom it is normally difficult to get a loan have a chance here. This includes students, self-employed, freelancers, and also employees in the probationary period. Are you wondering why this is possible?
This is because this online money lender uses its method for credit checks, which is very different from ordinary banks.
With this provider, however, the determination of your creditworthiness is handled differently. SGP Credit uses the bad credit score as just one of more than 300 different features to determine your creditworthiness. But the eligibility they ask for are:
– Must be at least 21 years old with citizenship of Singapore
– Should be employed, or have a recurrent stream of income
– NRIC
– Bank statements for the last 3 months and latest payslips
– Income Tax Notice of Assessment for the last 2 years or ACRA business profile
This means that you have a much better chance of getting a loan despite a bad credit score, even if you have already been rejected by the traditional banks. A bad credit entry is not necessarily a problem either.
One of the most important bases in lending is creditworthiness. By checking your creditworthiness, the lender ensures that you are solvent and that he is not taking too much risk when he gives you an instant loan. As a borrower, bad credit can be difficult for you. SGP Credit acts as a credit intermediary and tries to find the best solutions for you. Sometimes just a loan without a credit check can help. Like-
Credit without a credit check with SGP Credit
Credit agreement was drawn up by the credit professional based on the situation
Free inquiry and processing with social responsibility
No additional contracts such as family insurance, credit card, etc.
Real-Time Info SMS, and Real-Time customer area
Loan without creditworthiness – even with a bad credit score
Do you need an instant loan, but you also know that your credit rating is not optimal? You can often get a mini loan today without checking your creditworthiness. If the loan installments are not too high, SGP Credit small personal loans are also possible. However, these are not offered by every lender. SGP Credit will look for a suitable offer for you.
Liquidity problems can always arise. It is not uncommon for unexpected moments when you need money quickly. An instant loan is paid off quickly, especially if you have a very good credit rating. But even if your credit rating is not optimal, SGP Credit can help you.
This is how you benefit from a loan without a credit check from SGP Credit
Your credit request with us is always creditworthiness-free. If you first want to know what offers are available for your net loan amount, you can simply apply for an instant personal loan with them. As a borrower, you enter the relevant data. After your loan request, they will look for the right loan provider. They have been active as a licensed money lender in Singapore for a long time without any processing fee.
Tip: Did you take out a personal loan in Singapore a long time ago without a credit check with very high-interest rates? If your financial situation has now improved, debt restructuring is recommended. With a rescheduling loan, you can reduce the loan amount. After an asset assessment, money lenders may offer you better terms.
How can apply for the loan without a credit check?
Can you no longer cover the costs with a personal loan? A loan without a credit check or a loan despite a bad credit rating can be a good way to go. After you have submitted your loan application and decided between the different types of credit, they will send you various offers. Choose the right installment loan. After all the verification and after the confirmation is received, the loan amount will be paid out within 24 hours.
Conclusion: A bad credit rating does not have to be permanent
There is no general reason for a bad credit rating. The reasons vary from case to case. The cause can be the overdraft of the overdraft facility, too many credit inquiries, open bills, or even incorrect credit entries. In any case, there are disadvantages to bad creditworthiness. For example, you are offered poorer loan terms or you are rejected as a borrower. In everyday life, too, there may be restrictions in online shopping or when concluding contracts. Bad creditworthiness can lead to problems when looking for an apartment or when concluding cell phone contracts and leasing contracts. However, that does not mean the end of the world, because you have the opportunity to improve your bad credit rating by observing a few tips. So don't be afraid if credit agencies do not classify your creditworthiness as optimal, in addition to improving your creditworthiness score on your own, you also have the option with SGP Credit as a fair credit intermediary and obtaining a personal loan in Singapore.